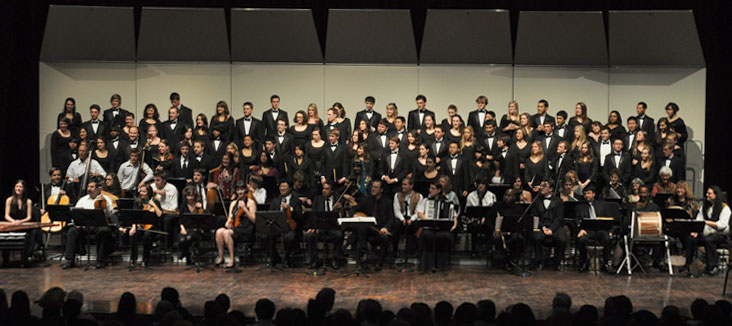 PolyPhonics and the Cal Poly Arab Music Ensemble Performed at Carnegie Hall
PolyPhonics, Cal Poly's premier chamber choral ensemble, and the Cal Poly Arab Music Ensemble were invited to give the showcase performance at the World Projects 2014 New York Choral Festival held at Carnegie Hall March 16-18.
High school choirs from around the U.S., including Puerto Rico, also performed. Professor Thomas Davies, who conducts PolyPhonics, was a festival faculty clinician and adjudicator for several of the high school performances.
In addition to the Carnegie Hall performance, PolyPhonics and the Cal Poly Arab Music Ensemble, conducted by Ken Habib, performed a concert and gave a lecture-demonstration at the CUNY Graduate Center on March 17. Combining rigorous academic training in the humanities, sciences, and social sciences with globally significant research, the Graduate Center is the principal doctorate-granting institution of the City University of New York.
The Cal Poly ensembles also gave a performance on March 21 at St. Peter's Episcopal Church in the heart of Philadelphia's Historic District.